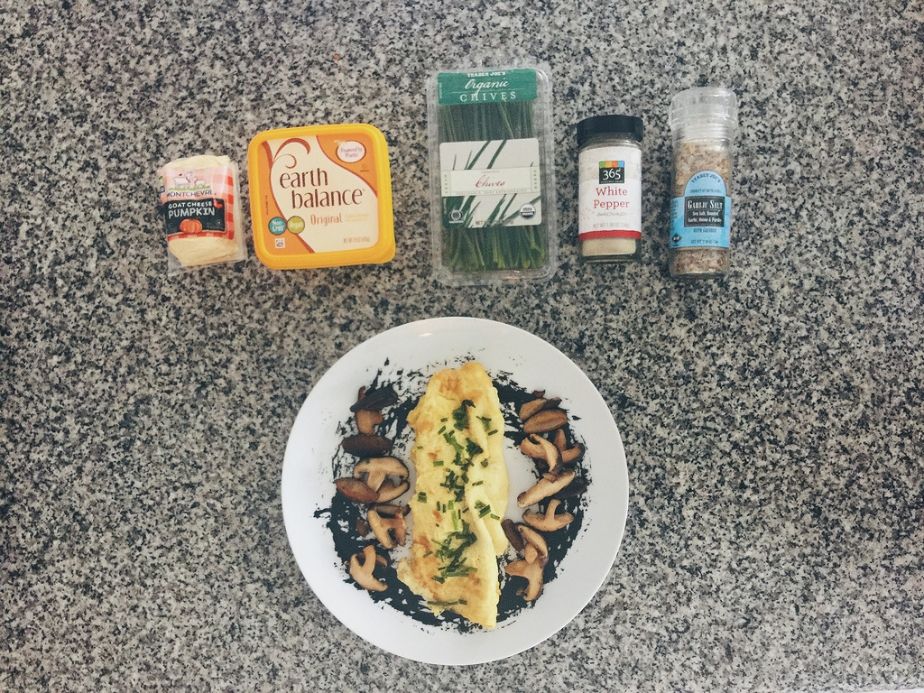 October is officially here and I couldn't be more excited. I love Halloween, and all the haunted house around the Los Angeles area keep raising the bar year after year. Hoping to hit Universal Studios' Halloween Horror Nights, Knottscary Farms, The Queen Mary and more in the next couple weeks.
Tis the season for pumpkin everything. I had a craving for a french omelette I had at Ludo Lefebvre's Petit Trois here in LA and decided to run to the store to make it at home for my sister and I. The pumpkin products at Whole Foods and Trader Joes were everywhere…and I ain't mad. So when I stumbled upon Montchevre Pumpkin Goat Cheese from Whole Foods…of course I decided to modify my recipe for the October season. I sauteed some shitaake mushrooms in garlic and voila…an omelette fit for October. Try it out and let me know what you think!
PETIT TROIS OMELETTE WITH PUMPKIN GOAT CHEESE
Ingredients
SERVINGS: MAKES 1
2 large eggs
2 tablespoons butter of your choice
Garlic salt
Freshly ground white pepper
1 ounce Montchevre pumpkin goat cheese
1 tablespoon finely chopped chives
FOR THE MUSHROOMS:
1 pack of shitaake mushrooms
1 tbsp minced garlic
Whisk eggs until well combined, until no strands of egg whites remain. Heat 1 tbsp of butter in an 8″ non stick pan over medium heat. When butter begins to foam (not sizzle) add eggs and season with salt. I like to use a rubber spatula for omelettes cause it's easier to control. Stir the eggs quickly, constantly moving in a figure 8 motion scraping down the sides of the skillet to avoid dry bits. The key is to keep everything evenly cooking. Making the perfect omelette isn't a marathon, slow and steady FTW. As soon as the eggs begin to coagulate (about 2 minutes), shake the pan to evenly distribute any uncooked egg. Keep stirring and moving pan in a circular motion until eggs are cooked through on the bottom, but still kinda runny on top or as the french call it "baveuse" . Remove pan from heat and let it sit for a minute to help the omelette breathe and keep it's smooth texture. Spoon dollops of cheese down the center of the omelette. Add the other tablespoon of butter to the pan as you fold the omelette in 1 ½" intervals using the spatula and eventually roll it out on a plate. The butter will help the omelette literally roll off the still warm pan. You can rub a bit of butter on top of the omelette to make it nice and shiny and finish off with the chopped chives for a garnish. If you wanna try the mushrooms I made I heated up 2 tablespoons of butter in a skillet, added a tablespoon of minced garlic and sauteed the mushrooms for a bout 5 minutes on medium heat.
Bon appetite bbs.